Ophtalmology:


Detection and measurement
of lens defects
Specialist in the inspection
of implantable (IOLs) and contact lenses (CL)
V-OPTICS is a unique partner on the path of «zero defect».
Our QualiLENS® systeme dedicated to the qualification of IOLs and Contact Lenses allows with a unique piece of equipment to:
Perform optical power measurement (spherical, cylindric and prismatic power, axes)
Dimensional Control (diameter, haptics (IOLs))
Engravings and Code reading ("letters and numbers", identification of optical axes)
Automatic Defect Detection (edge defects, scratches, lathe and machining defects, ...)
QualiLENS® systems are by nature customizable. Thanks to the multiple features, reliability, speed and usability, many customers around the world rely on V-OPTICS for their process improvement.
To adapt to the various production processes two versions are available :
- QualiLENS® 150 for «BATCH» oriented production (per batch/tray).
- QualiLENS® 100 for a «ONE PIECE FLOW» production.
To meet customers expectation, in addition to the "product qualification and measurement" aspect, QualiLENS® is easy to use, maintain and ready for automation:
V-OPTICS measuring technology does not require precise positioning of the lens for the measurement.
A lens can be identified automatically at inspection time through code and mark reading capabilities.
For BATCH processes, «smart tray management» allows tracking lens batches until they are removed from the tray on our connected sorting station.
The interface with production management systems allows, real-time data exchange and remote control of the equipment, via digital signals and the computer network.
QualiLENS® is designed for clean room environment and easy to operate by "touch" interfaces.
QualiLENS® is specially designed to make production automation easy, and to control quality by ensuring efficient traceability.
QualiLENS® 100
Dedicated to single-unit lens one piece flow on automatic control, QualiLENS® 100 is to be placed on a workstation.
As part of an automated/robotic line, QualiLENS® 100 is fully adapted to fit into a «ONE PIECE FLOW» process.
The control of a lens is carried out in three steps :
1
Loading of the lens into the appropriate «sample holder» asper an in aqueous (in situ) or dry ( in air) control.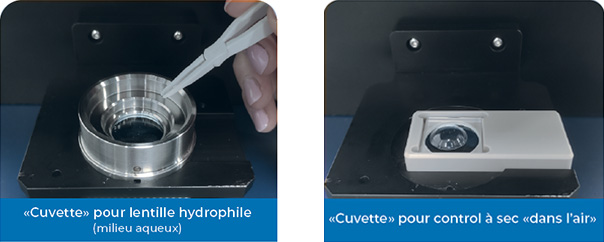 2
The operator triggers the control process.
Various measurements, results. Reports and data archiving, are available in a few.
3
The operator removes the lens from the system, and performs the conditioning for the next production step.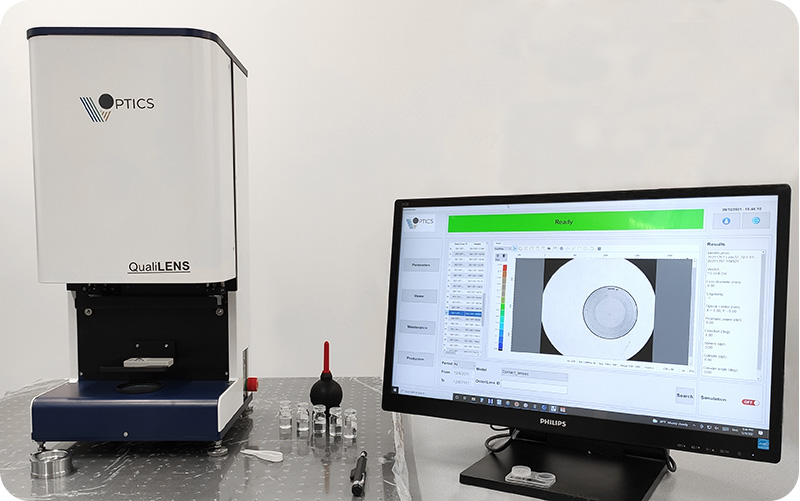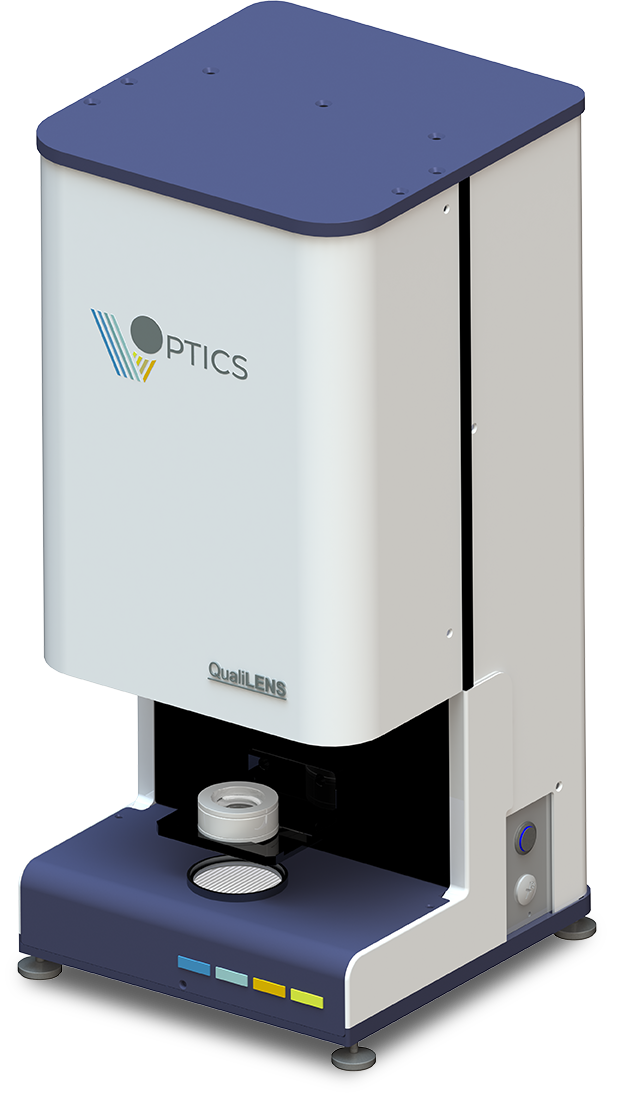 For an integration into automated lines, QualiLENS® 100 is available in a specific version; more adapted for robotic loading.

QualiLENS® 100 includes all the sensors, software, and electronics needed for the data processing required for its operation.
V-Optics perfoms also commissioning and specific setting in collaboration with the customer. The customer is trained by our teams to be fully autonomous in the use and adjustment of its control parameters.
QualiLENS® 150
For fully automated control in batch production, QualiLENS® 150 is the right solution.
The control of a batch takes place in three phases :
1
Lenses of are placed into «bins» or «trays» specially designed for processing in an aqueous (in situ) or dry (in air) condition. Each lens is placed into an individual cavity.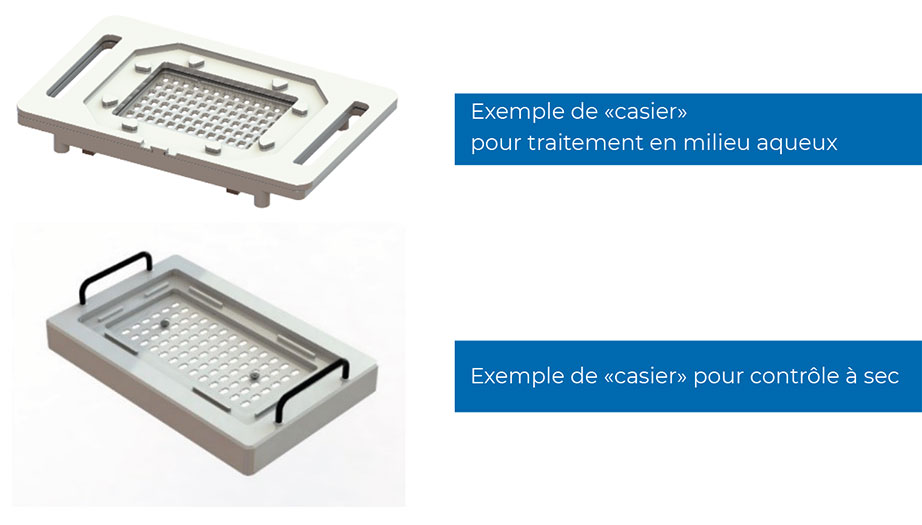 2
The «tray» is placed into QualiLENS® 150. The control cycle starts.
3
The "tray" is remove from QualiLENS 150 and placed on a special tool called "connected sorting table». Batch cavity with a lens is backlighted, and the operator to act it according to the color code (green=compliant, red=discarded, orange=possible operator decision).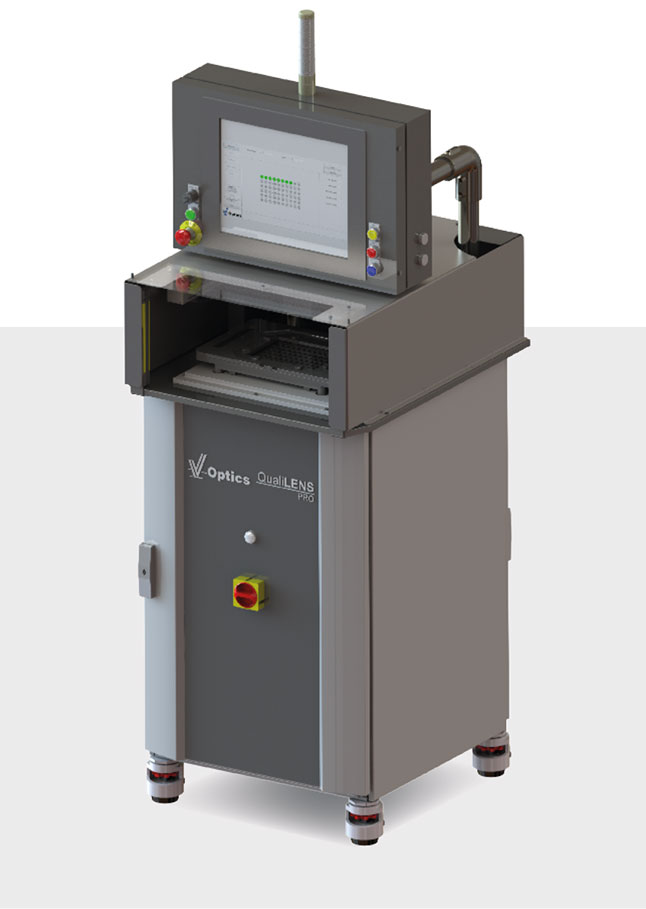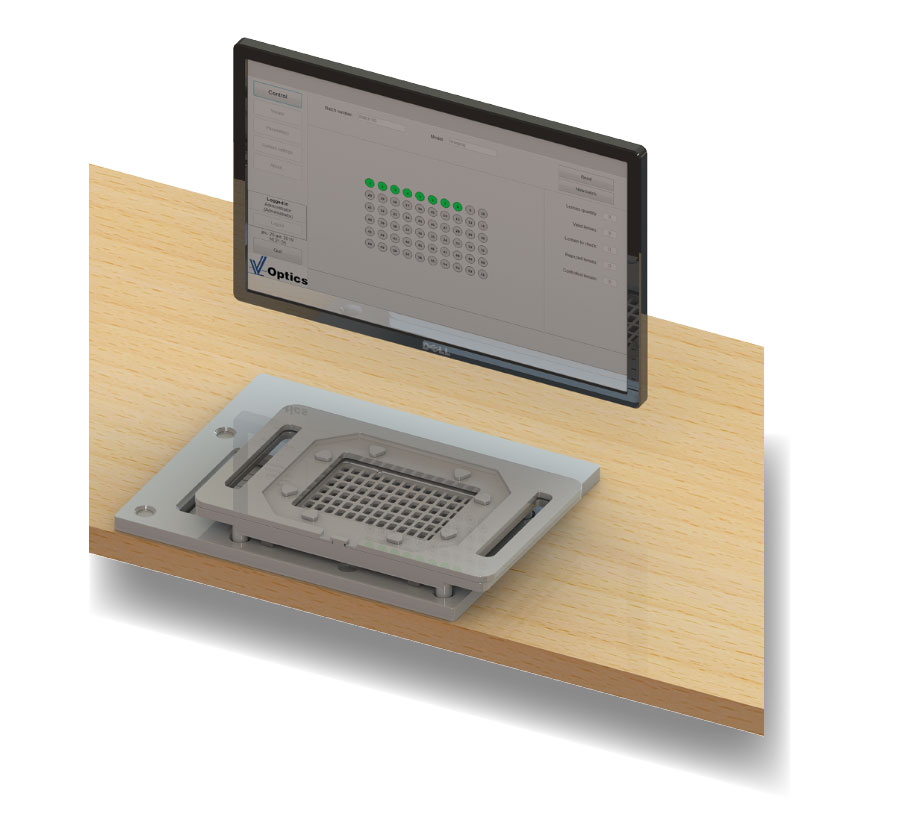 Filling table, control and lenses removal after measurement after measurement can be done asynchronously. To ensure batches tracking in such a process the «trays» are equipped with an intelligent tracking system based on RFID technology compatible with cleaning and sterilization processes.
Actually, as lenses are placed in a tray, a digital link is created between batch and tray. They information is available to QualiLENS® 150 or the sort table. Without any action of the use as soon as a tray is placed in QualiLENS® or on the sorting table.
1

The lenses are cleaned and placed into the trays (One batch per tray).

2

A tray is loaded into QualiLENS® 150.

3

The tray is identified as well as the information of the batch of lenses into it.

4

QualiLENS® 150 performs measurement of all lenses.

5

At the end of the cycle a light and/or sound signal is generated.

6

The tray is unloaded from QualiLENS®. (QualiLENS® is available immediately to receive a new tray)

7

The operator sets a tray previously controlled by QualiLENS® on the «sorting station».  Information (batch, etc.) are automatically displayed with a lens is backlighted each cavity indicating to the operator the compliance.

8

Once the tray has been emptied, the operator indicates the end of the current batch processing.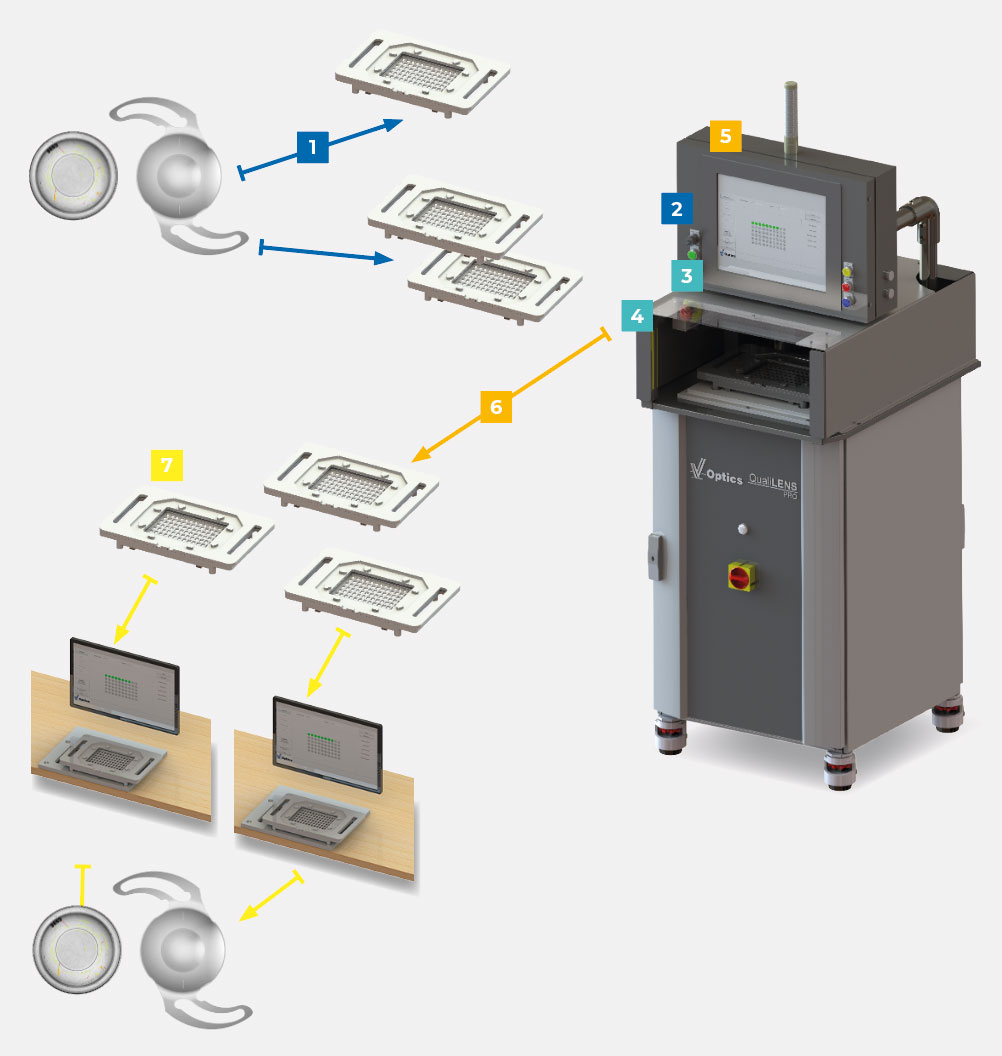 Multiple sorting tables can be connected to a single QualiLENS® 150 simultaneously, allowing to combine unloading and final lens conditioning in a single workstation.
Easy to use, safety and traceability have been a guide line for the development of QualiLENS® 150.
01 Main functions and measurement of optical characteristics
Products for QualiLENS® 100 and 150
Control of rigid and soft contact lenses
Control of hydrophilic and hydrophobic implantable lenses (IOLs)
Control of monofocal, toric, multifocal lenses
Measurement in air (dry) or «in situ» (aqueous medium)
Main functions available on QualiLENS® 100 and 150 :
Intuitive software
Secure settings, secure user access
Detailed results of measurements available for archiving and traceability
Measurement results available for production management software
Data extraction from the working order for the machine management
Control reports available per lens, per batch
Automatic monitoring of the system and tools (cuvettes, trays)
(150 only) Tray management and monitoring by RFID technology
(150 only) Connection with «Filling Station» and «Sorting Station»
Automatic lens quality and conformity check (semi-automatic possible with operator intervention)
02 Key measurements and controls
Optical Power:
Sphere, Addition, Cylinder, (Prism)
Cylinder axes, orthogonality, recognition of toric marks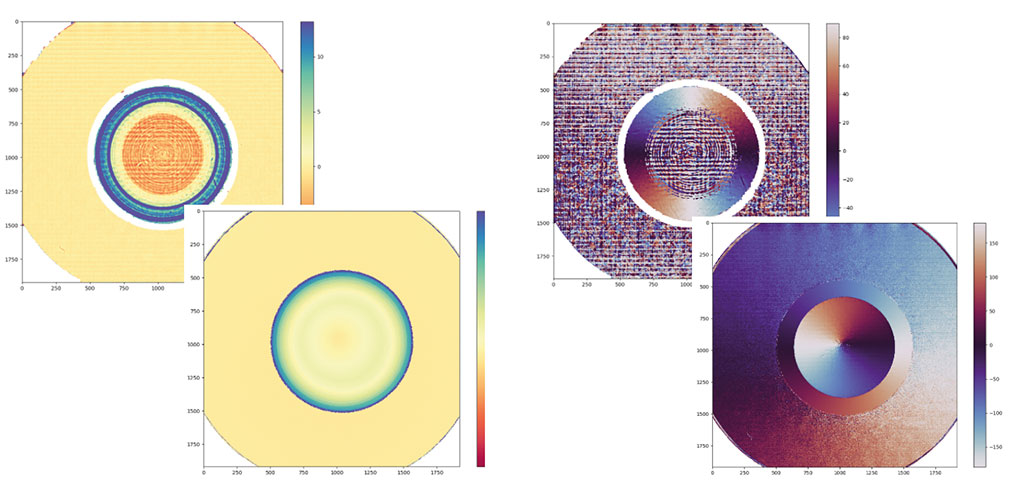 Dimensions :
Diameter of the lens (CL)
Control of haptics and design (IOLs)
Control of drilling
Laser engraving/ codes:
Engravings and quality control
As to the code, checking and working possibility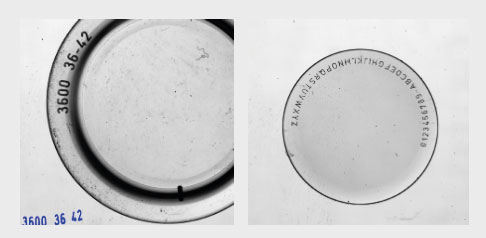 Defect Detection:
Automatic (or semi-automatic) detection of defects such as:
Chips
Decentering
Handling marks,
Inclusions,
Point in the center,
Lathe marks
Milling, marks
Tear out of material,
Edge defects
Scratches
Haptic damages
Others on request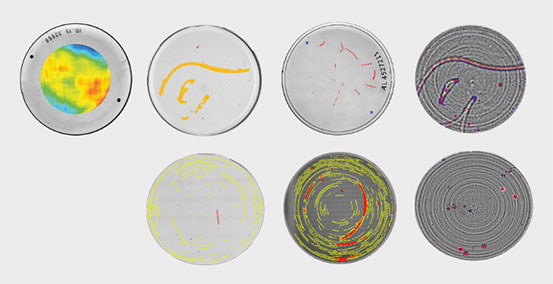 Examples from QualiLENS® defect list: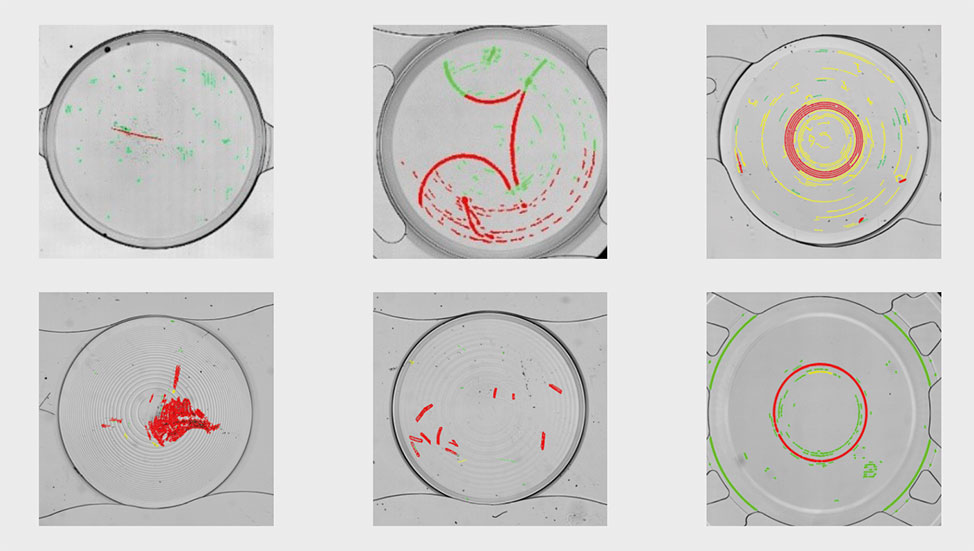 03 Lenses quality control principle
Lense control can be define by the use as per needs (by lens type, customer, reference, etc.).
Criterias control can be defined individually, according 3 zones whose dimensions are unrestricked definable by the user.
1AREA 1 (optical center) 2 AREA 2 (peripheral area) 3 AREA 3 (edge/external area)

Criteria control can be modified for the different above areas, via a dedicated interface and can be seen in real time. The effect of a change of criteria on data from archived lenses.
This enable to setup «offline» settings, test and validate them from production data before integration them to the production.